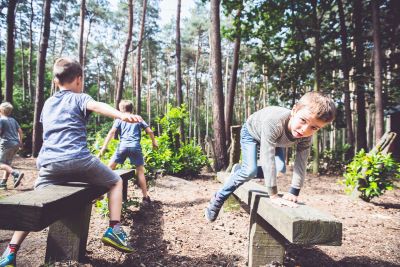 Various possibilities for everyone:
---
Kindergarten, primary or secondary school, or even highschool. No school or class is equal! At Hopper, we offer many different formula for your stay.
Our youth centres are spread across all Flemish provinces. 7 of our youth centres have a unique location amidst the greenery and forest, and one youth centre is to be discovered at the very heart of Antwerp. You might even find one of them at biking distance!  As to keep your excursion healthy, active, and affordable...
The necessary comfort for students and their supervisors:
Dividable sanitary rooms and bedrooms
Seperate sleeping and living units for supervisors
Internetconnection: wired connection as well as good wifi
Plenty of equipped rooms for classes or team work
Cooking together with your class, or bringing a kitchen team, staying in full board, camping
Your stay – all shipshape – in full board. All kind of meals, merely upon request:  vegetarian, special diets, allergies, halal, …
A little more adventure?
Also camping with your class is possible!
No camping equipment of your own? Not a problem, at De Kluis near Leuven we have a complete campfield already set up with tents.
Even then, you have the choice between cooking yourselves or enjoying the meals of our full board.
Too many options for activities
The Hopper youth centres are the perfect starting point for many kind of activities, on your own, or coached by one of our local partners:
A visit to cities and musea in the vicinity
Walk through nature, with or without guide • Mountainbike- or bike tour
Reflection days • Teambuildingstrunk
Push your boundaries on the rope track (with guidance).
Test your degree of self-reliance : compas-walk, oriëntation-track, reading of topographic maps, pioneering
Outdoor sports on the property : archery, speleobox, survivals, ...
Looking for ready-to-go programmes about several themes, from acquaintance games, nature exploration, to merely playing.
Guaranteed at Hopper!!

When weather conditions are good, complete your multiple-day activity by a campfire. Always a topper! All of your youth centres have a permanent campfire permission.