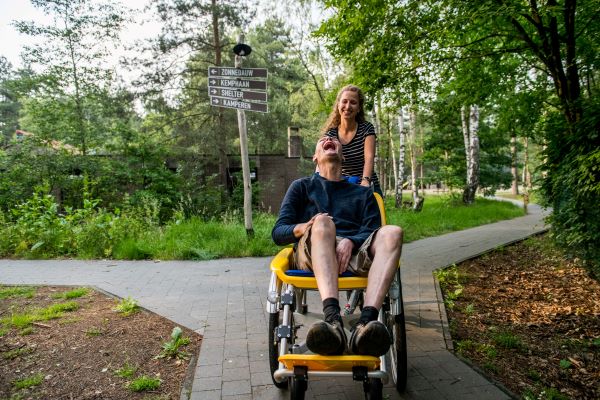 Accessible youth centres to all
Accommodations without barriers.
Accessibility at Hopper
Hopper commits to accessibility.
This way, it is possible to all children and youngsters to attend a camp or forest class. Surrounded by the necessary comfort, combined to just as much adventure!
from carpark to reception
adapted sanitary provisions
accessible bedrooms and beds
reachable outdoor space
appropriate diets
any other questions? We are very inventive!
Accessibility with our without label
Four of our youth centres were granted with the A-label awarded by Accessible Flanders. On this site, you find all information regarding this label.
Merkenveld at Zedelgem:
In the building, there are 13 beds at the ground floor, suitable for people in wheelchairs, there is an accessible shower and toilet.
Parking spaces are to be found next to the building, and outdoors there is the (wheelchair)path that inter-connects all places.
At the outdoor sanitary block, there also is an adapted toilet, as well as a loading dock to recharge your electric wheelchair.
De Brink at Herentals:
3 buildings (main building, Zonnedauw, De Shelter) are accessible. For De Shelter, we were even awarded with an A+ label.
There are 2 accessible parking spaces near the main entrance.
All buildings are connected to each other through a wheelchair path.
All buildings have accessible beds on the ground floor (min. 6 tot max. 46)
De Winner at Pelt
Accessible path from carpark to main building.
Adapted sanitary room: shower and toilet
2 accessible beds
Het Scoutshuis at Antwerp
Elevator, sanitary rooms, bedrooms, and meeting rooms, all accessible to people with disabilities.
Each spot in the Scoutshuis is accessible to wheelchairs: cooking, washing, sleeping.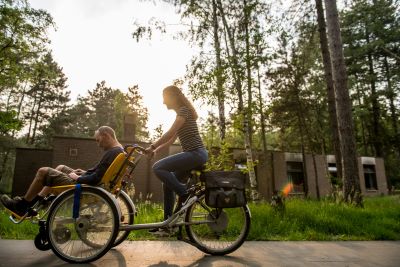 The other youth centres have their own degree of accessibility. For future investments, we plan to adapt our accommodations in the best possible way
Drieboomkensberg at Malle
The Blokhut is a cosy and separate unit which is fully accessible: day rooms, sanitary rooms, as well as bedrooms.
The access road is a large forest road.
In the main building, (for the moment) only the meetingrooms and diningroom are accessible
Moerkensheide at De Pinte
The main building has accessible sanitary provisions with adapted toilet and shower
Separate accessible bedroom
Meeting rooms and corridor are very spacious
Woutershof at Kinrooi
De Gids is a separate building, near building Welp/Kabouter, and can be hired in combination with the other buildings.
De Gids is accessible, bedrooms as well as sanitary room.
De Kluis at St. Joris-Weert
Has the most limited wheelchair-accessibility among our youth centres, because of its location in the middle of the forest Meerdaalwoud
the planned renovation of Berkenhof will turn this favourite accommodation to all  also to be accessible.
Accessibility including adventure
Seven of our youth centres are located in the middle of green area, and one is in the city.  That's the fun of it.
And that is also why we made the following assets accessible:
The wheelchair path at Merkenveld meanders along all buildings, up to the covered play-area at the play field, further to the campfire circle and camp fields. And for those who accept the challenge of camping, we provide adapted camping sanitary facilities.
At De Brink we created a unique back to basics- accommodation: De Shelter! 6 accessible beds at the ground floor, with sanitary room nearby. All connected through a wheelchair path. Camping under a roof, cosy fireplace included.
At the Scoutshuis you prepare your own meals in an adapted kitchen.
Since a few years, we also organise tailor-made buddy-holidays, this year even on three of our youth centres already. A vacation created thanks to the 'impulse-subsidy' of Toerisme Vlaanderen:
Doing this, we make it possible for all people with disabilities (young or older) to have a real vacation together with his own self-chosen buddy. They decide together what they would like to do, tailor-made according to abilities, wishes, dreams,…
In close cooperation with our partners - Mivalti vzw, Oranje vzw, Clara Fey vzw, 't Veldzicht vzw, Pegode vzw – we make those dreams come true.
In june 2020, the holiday will be taking place at Merkenveld, the Scoutshuis and Drieboomkensberg. An info-session is planned on 12th December 2019 at 14h, on each of these three centres.
For more information, contact us through merkenveld@hopper.be