Posted:
22 September 2021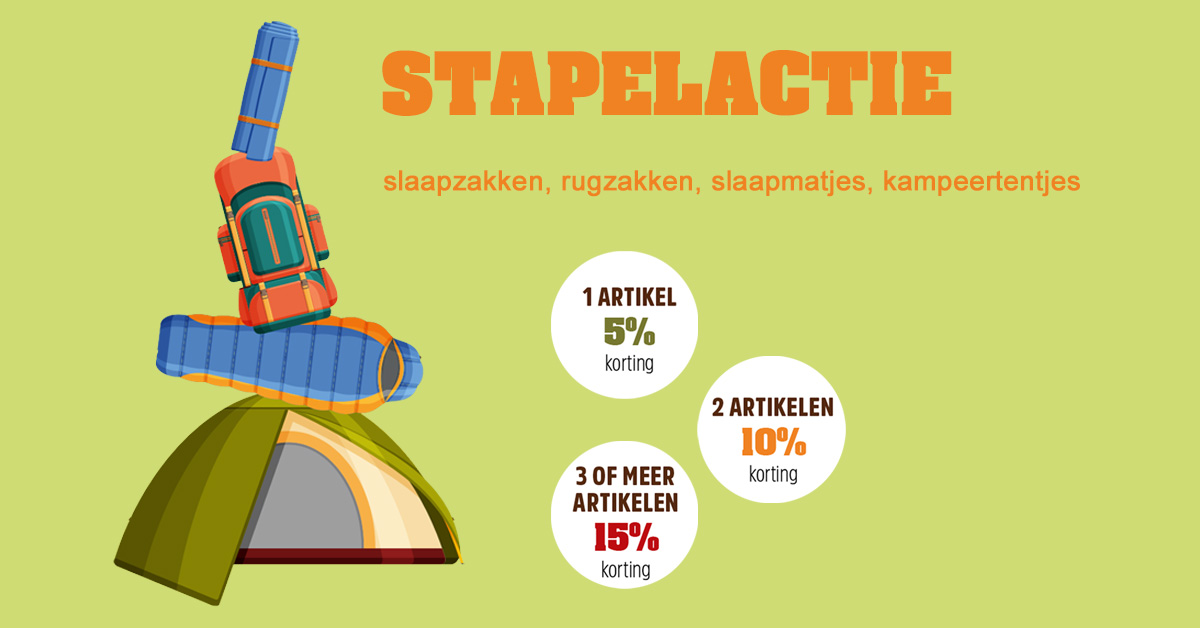 Stapelactie scoutsjaar 2021
Kies uit slaapzakken, rugzakken, slaapmatjes of tentjes en stapel tot 15% korting.
Nog even en dan zijn er de eerste weekends. Misschien wel voor de eerste keer? Profiteer van onze stapelactie en rust je gerust uit voor jouw (eerste) scoutsweekend. De actie loopt in alle Hopperwinkels én in de webwinkel.
Hoe werkt de actie?
Kies één artikel uit de geselecteerde artikelgroepen en je krijgt 5% korting op dat artikel.
Kies twee artikelen uit de geselecteerde artikelgroepen en je krijgt 10% korting op beide artikelen
Kies je drie of meer artikelen uit de artikelgroepen, dan krijg je 15% korting.
In de winkels wordt de korting in de kassa toegekend. In de webwinkel vind je de korting automatisch in je winkelmandje.
Welke artikelen nemen deel aan de actie?
Combineer en stapel je korting, kies tussen
slaapmatten en veldbedden
,
kampeertentjes
,
slaapzakken van Wilsa Sport én Lafuma
en
rugzakken van Wilsa Sport
.
Tussen deze groepen kan je vrij combineren.
Je combineert dus evengoed een slaapmat met rugzak en slaapzak voor 15% korting als bijvoorbeeld 3 rugzakken (al dan niet van hetzelfde type).
Profiteer nu van onze stapelactie om je kampeer- of bivakuitrusting te kiezen.
Tot wanneer loopt de actie?
De actie loopt tot en met 31 december 2021 en is geldig in alle winkels (online en offline). De stapelactie is niet cumuleerbaar met andere lopende acties.
Begin bij een slaapzak
Of bij een rugzak