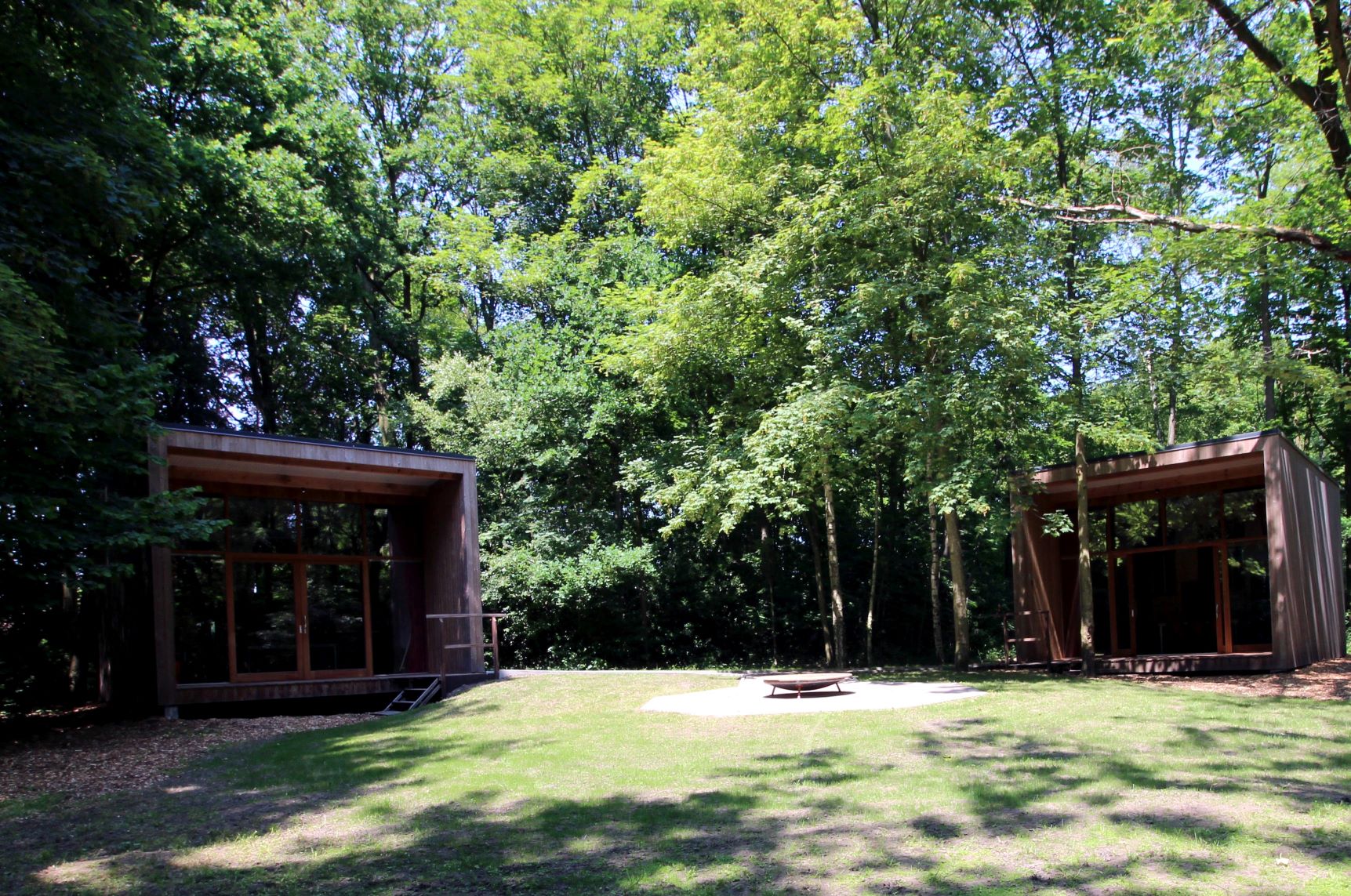 Een uniek bouwproject.
Op Merkenveld, het Hopper Jeugdverblijf in Zedelgem, zijn twee nieuwe verblijfplekken geopend. Deze twee trekkershutten bieden elk plaats aan zes personen en vormen een welkome toevoeging aan de accommodaties van Hopper, waarmee de jeugdcentra van Scouts en Gidsen Vlaanderen zich nu ook richten op kleinere gezelschappen.
Epona en de Lelie
Zo werden de trekkershutten genoemd. Beide hutten zijn opgetrokken uit duurzaam hout en staan op een schaduwrijke locatie binnen het domein. De Groenploeg, een groep enthousiaste vrijwilligers met een groot hart voor Merkenveld, heeft gezorgd voor een vakkundige en zorgvuldige opbouw van de hutten. Elke hut biedt slaapgelegenheid aan zes personen en is voorzien van een compacte keuken en eethoek. Bovendien heeft elke hut een eigen terrasje, maar je kunt ook gerust je tafel in het gras zetten en genieten van de natuurlijke omgeving. Om de dag af te sluiten, kun je gebruikmaken van de kampvuurplek, die exclusief beschikbaar is voor de trekkershutten. Het sanitair en de douches bevinden zich vlakbij en worden gedeeld met enkele kampeerterreinen. De trekkershutten rolstoeltoegankelijk, in elke hut is één extra uitschuifbaar bed voorzien (6+1 dus). Ze zijn makkelijk te bereiken via de aangelegde vlakke paden.
Voor wie?
De trekkershutten kunnen apart of samen geboekt worden. Ze bieden een geweldige overnachtingsplek voor (jeugd)groepen op weekend, of gezinnen die op fiets- of wandelvakantie zijn in de nabije omgeving. Daarnaast vormen ze ook een ideale uitvalsbasis voor fietstochten of wandeltochten in de buurt. De badstad Oostende en de kunststad Brugge liggen beide op korte afstand. Bovendien zijn er in de omgeving diverse fiets- en wandelknooppunten te vinden. Op aanvraag is het ook mogelijk om één of beide trekkershutten te combineren met een ander gebouw of kampeerterrein, zo vormen ze een apart plekje voor leerkrachten, begeleiders, foeriers of kookouders wanneer je met je groep op Merkenveld verblijft. Zijn de hutten toch wat te krap voor je groep? In overleg kunnen er rondom enkele tentjes geplaats worden.
Over de omgeving rond de hutten.
Hopper Merkenveld ligt in een 30 hectare groot (speel)bos, vlakbij natuurdomein Doeveren. Op het domein vind je een speelweide met mini-voetbaldoelen en een petanqueveld waar je kunt genieten van een spelletje petanque met je mede gasten. Op aanvraag kan je gebruik maken van de broodservice, zo spaar je 's morgens een ritje naar de bakker uit.
Zin om te komen?
Je vindt de trekkershutten op de overzichtspagina van Hopper Merkenveld. De hutten zijn elk apart, samen of in combinatie met andere gebouwen en kampeerplekken beschikbaar. Welkom!