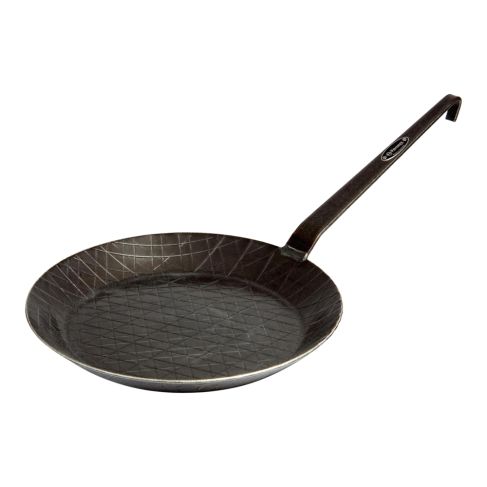 Smeedijzeren Petromax pannen zijn bestand tegen zware belasting, slijtage en vervorming, waardoor ze geschikt zijn voor intensief gebruik in de outdoor-keuken, maar evengoed voor thuisgebruik.
Smeedijzer (wrought iron) heeft een uitstekende warmtegeleiding en -verdeling, waardoor de pan gelijkmatig verwarmt en hotspots voorkomen worden. Na het initiële inbranden (zie onder) van de pan vormt zich een natuurlijke antiaanbaklaag, de zogenaamde 'patine'. De Petromax pannen hebben een unieke oppervlaktestructuur die de vorming van deze patine extra versterkt. Na het inbranden wordt de bodem bruin, dat blijft zo en is nodig.
Het inbranden van een smeedijzeren pan (seasoning):
Om de natuurlijke antiaanbaklaag van een smeedijzeren pan te ontwikkelen en te behouden, is het belangrijk om de pan goed in te branden.
Volg hiervoor deze stappen:
Verwijder eventuele verpakkingen en stickers van de pan.
Was de pan grondig met warm water en een borstel, zonder afwaszeep te gebruiken. Spoel en droog de pan goed af.
Verwarm de pan op laag vuur en giet een dun laagje plantaardige olie in de pan dat de volledige bodem bedekt. (Gebruik geen olijfolie, die verbrandt te snel)
Verhoog geleidelijk het vuur tot medium, voeg een theelepel zout toe, en laat de pan goed opwarmen tot de bodem een bruine kleur heeft.
Laat de pan afkoelen en veeg de olie af met een doek. Je smeedijzeren pan is nu ingebrand en klaar voor een eerste gebruik.
Tip van de kenners! Bak aardappelschijfjes of aardappelschillen in de pan.
Om je pan voor het eerste gebruik extra goed voor te bereiden kan je bijkomend volgende werkwijze toepassen.
Verwarm plantaardige olie in de pan op een laag tot medium vuur. Snij een aardappel in schijfjes van 0.5 cm dik. Bak deze schijfjes en eventueel de schillen erbij
in de pan op medium vuur tot ze echt bruin zijn, maar niet aanbakken. Je pan is nu echt klaar voor gebruik met een goede patine!
Gebruik en onderhoud van een smeedijzeren pan
Het handvat van de petromax pan wordt heet. Gebruik beschermende handschoenen of pannenlappen.
Een smeedijzeren pan kan gebruikt worden op alle types electrische vuren (ook inductie), gasvuren en uitermate goed op open vuur.
Vermijdt het het gebruik van zuurhoudend voedsel in de pan (tomaat, wijn, ...). Ze breken de patine laag af zodat je het inbrand-proces moet herhalen.
Gebruik kookgerei van hout, siliconen of nylon om de natuurlijke antiaanbaklaag van de pan te beschermen en krassen te voorkomen.
Reinig de pan na elk gebruik.
Zet lauw water (zonder zeep dus) in de pan en laat even weken.
Reinig nu de pan met keukenrol, een vod of niet krassend sponsje.
Gebruik nooit afwaszeep in een smeedijzeren pan. De natuurlijke anti-aanbaklaag verdwijnt hierdoor.
Olie de pan terug in, ook de randen, en berg ze zo op tot een volgende gebruik.

Besluit
Met de juiste zorg en aandacht is je smeedijzeren outdoor pan (wrought iron skillet) een betrouwbare metgezel tijdens je outdoor avonturen. Door je pan goed te gebruiken, regelmatig te onderhouden en te beschermen tegen roest, zal deze pan steeds lekkere maaltijden opleveren, thuis, in de natuur ofwaar je ook bent.
Geniet van het koken boven open vuur en creëer onvergetelijke culinaire ervaringen in de buitenlucht met je smeedijzeren outdoor pan!
Hier vind je deze pannen in onze webwinkel.
Ook te vinden in onze zes Hopper-winkels natuurlijk!