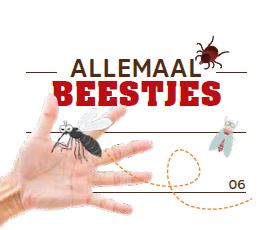 Niet alle dieren zijn aaibaar en lief. Sommige beestjes kunnen de pret op kamp behoorlijk bederven. Onze top vijf, in volgorde van vervelendheid…
---
De mug
Muggenbeten kunnen knap jeuken. En het gezoem 's nachts maakt je helemaal gek. De beste remedie is de korte pijn: controleer je tent voor je gaat slapen en sla alle muggen dood.
De wesp
Wespen houden van zoet, maar niet van wind. Even blazen helpt om ze te verjagen. Word je toch gestoken? Blijf dan kalm en duw het gif uit de wonde. De angel blijft niet zitten.
De bij
De honingbij kan maar één keer steken: de angel breekt af en de bij sterft. Na een bijensteek haal je de angel best zo snel mogelijk uit. Ga naar de dokter als je lichaam allergisch reageert.
De daas
Een beet van een daas veroorzaakt een knoert van een bult. Die behandel je best met een middel tegen insectenbeten. De steekvlieg zelf sla je best zo snel mogelijk dood.
De teek
Niet de vervelendste, geen gezoem, jeuk of pijn, maar zeker wel de gevaarlijkste! Teken bijten zich vast in je huid en zuigen zich vol met bloed. Zo kunnen ze de ziekte van Lyme overbrengen. Verwijder de teek met een tekentang en hou de beet nog een maand in het oog.
Belangrijk! Check jezelf, je kinderen of je leden na elke wandeling door het bos en hoge begroeiing op teken, zo verkom je erger!
Van insectenspray over tekentang tot betenzalf: Bij Hopper vind je alles om beten te voorkomen, maar ook te genezen.
---