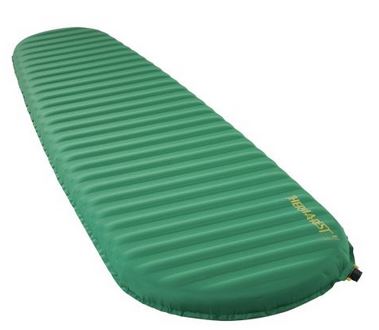 Als speelvogel en avonturier is er niets belangrijker dan een goede nachtrust na een lange dag vol actie en plezier. Een goede slaapmat is daarbij essentieel, maar het opblazen van traditionele luchtbedden kan soms een hele klus zijn. Gelukkig is er een oplossing: zelfopblazende slaapmatten.
Zelfopblazende slaapmatten zijn voorzien van een speciale schuimkern die lucht kan vasthouden. Wanneer je het ventiel opent, begint de mat zichzelf automatisch met lucht te vullen. Je hoeft alleen maar een paar extra pufjes lucht toe te voegen om de mat op de gewenste stevigheid te brengen. Dit betekent dat je geen aparte pomp nodig hebt en geen kostbare energie hoeft te verspillen aan het opblazen van je mat.
Hoe hoger, hoe warmer
De R-waarde geeft aan hoe goed je slaapmatje je lichaam tegen de koude ondergrond beschermt.
Hoe hoger het getal, hoe minder koude je matje vanuit de ondergrond doorlaat.
Dik of dun?
Een dikke slaapmat is comfortabeler, maar beschermt je daarom niet beter tegen koude.
De R-waarde wordt vooral bepaald door het materiaal en de vulling waaruit je slaapmat is opgebouwd.
Voor iedereen anders
Niet iedereen ervaart koude op dezelfde manier. Daarom is het moeilijk om de R-waarde aan een
bepaalde temperatuur te koppelen. Hou rekening met deze opdeling:
- R-waarde 1: zomer (tot 10°)
- R-waarde 2: zomer en voorjaar (tot 5°)
- R-waarde 3: zomer, voorjaar en herfst (tot -5°)
- R-waarde 4: alle seizoenen (tot -10°)
(Verschillende fabrikanten durven wel eens andere maatstaven gebruiken bij het bepalen van de R-waarde. Thermarest is hierin de meest betrouwbare fabrikant en levert de kwalitatiefste matten!)
Zo gaat je slaapmat langer mee - onderhoudstips
Hoe beter je een slaapmatje behandelt, hoe meer plezier je eraan beleeft. Met deze onderhoudstips slaap je sowieso op beide oren.
-Opblazen.
Een zelfopblaasbaar matje vult zichzelf. Dit kan even duren (zo'n 10 minuten). Een nieuw matje laat je zich best een half uurtje vullen. Andere luchtbedden of matjes moet je zelf opblazen.
Door de koude kan je matje slapper worden: blaas het matje 's ochtends gewoon een beetje bij.
-Leeglaten.
Open het ventiel en vouw het matje in vier of vijf. Druk alle lucht eruit met je knieën en
draai het ventiel weer dicht. Rol het matje op in de richting van het ventiel, draai het ventiel even open en druk de laatste lucht er uit. Sluit nu terug het ventiel. Je kan je matje nu supercompact oprollen.
-Schoonmaken.
Stop je matje nooit in de wasmachine of droger. Maak het schoon met lauw water en een milde zeep en spoel het schoon met de tuinslang.

-Opbergen.
Bewaar je matje uitgerold en met het ventiel open in een droge en donkere omgeving, bijvoorbeeld onder je bed of naast je klerenkast.
TIP!
Help, een lek!
Blaas je matje op en smeer het in met water en vloeibare zeep. Op de plek van het lek verschijnt een blaasje of luchtbel.
Gebruik een herstelkit om het lek te dichten. -> Thermarest herstelkit
Zelfopblazende slaapmatten zijn verkrijgbaar in verschillende maten en diktes, zodat je kunt kiezen wat het beste bij je behoeften past.
Of je nu een ultralichte mat wilt voor je kamp, trektocht of backpacken of een luxere, dikkere mat voor een comfortabele kampeerervaring, er is altijd een zelfopblazende slaapmat die aan je wensen voldoet. Bovendien zijn ze geschikt voor verschillende terreinen, van kamperen op een wei, slapen in de bergen tot overnachten op het strand.