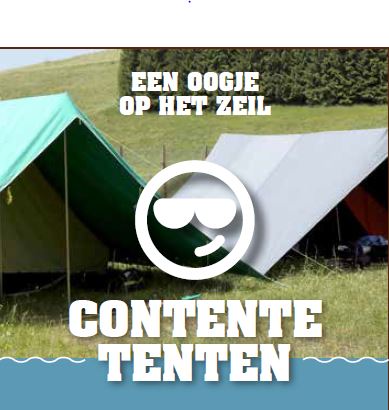 Een oogje op het zeil
---
Een goede tent kost geld. Reden te meer dus om ze goed te verzorgen. Vocht en vuil zijn de twee grootste vijanden, ook tijdens de jaarlijkse winterslaap.
DROGEN
Zorg ervoor dat je tent helemaal droog is vooraleer je ze opplooit. Vooral katoenen tenten zijn gevoelig voor schimmels. Is je tent toch nat bij je vertrek? Plooi ze dan lichtjes toe en laat ze zo snel mogelijk drogen. Een natte tent mag nooit langer dan 24 uur ingepakt blijven.
SCHOONMAKEN
Maak je tent schoon met lauw water en een zachte spons en doe het meteen: zo krijgt het vuil niet de kans om blijvende schade toe te brengen. Vermijd zeep en detergent. Alleen hardnekkige plekken ga je eventueel met baby-zeep te lijf. Vergeet ook je haringen en tentstokken niet.
OPBERGEN
Berg je tent op in een katoenen tentzak of een ruime houten kist, zodat het tentzeil kan ademen. Zorg voor voldoende ventilatie rondom en vermijd vocht en condens te allen prijze. Leg de tent eventueel op een pallet en sluit je materiaalkot niet hermetisch af.
---
Meer weten over het onderhoud van tenten?
Grasduin door de blogs op onze website of download 'Tenten Tips & Tricks', een handige leidraad van de Ploeg Technieken. Je krijgt het boekje ook gratis meegeleverd bij aankoop van een groepstent of patrouilletent.
www.scoutsengidsenvlaanderen.be/publicatie/tenten-tips-tricks[EV2] 
---
TIP
Een scheurtje in je tentzeil? Met de Speedy Stitcher (€ 26,50) is het euvel zo hersteld. Het startpakket bevat twee extra stevige naalden en een spoeltje met gewaxt garen, waarmee je zelfs de zwaarste materialen handmatig aan elkaar naait.
•
www.hopper.be/winkel/webshop/tenten-en-shelters-toebehoren-tent-c-3_80_85/speedy-stitcher-startpakket-p-9091.html
---
---