One with nature
Our nature guides astonish you with the life underground and in the water.
Catch some minuscule water animals in the pond with a spoon-net, and turn them into giant creatures under the microscope.
How this works?
For a nature guide, you pay the volunteer fee of €34.00 for half a day. This is being added to your invoice of your stay at De Brink. For this workshop at the pond, you need 2 guides, one to accompany you at the pond, and one for the microscopy. All children can pass on to both parts of this activity, so that by the end they all have seen everything. Even to combine with a 3rd guide, who is then dealing with the soil and benthic fauna.
Use of a classroom and equipment is free for all groups staying at De Brink. Are you just visiting us for the activity, then you pay a flate rate of € 30.00 for the use of our infrastructure.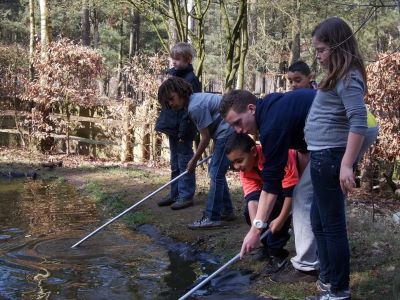 Need more information about studying the aquatic life with a natureguide?
brink@hopper.be or 014/21 15 33.
Also check the other activities we offer, enough options to complete your stay with a well-balanced programm: playing, learning, interacting, and above all, discovering! We love to help you making the perfect puzzle for your group. A customized programm for anyone's budget.