Underneath, a preview of how your week at De Winner might look like.
More information about these and other fun activities in and around De Winner, you will discover under Activities. All activities take place at de Winner or in the immediate surroundings, so easily accessible on foot or by bike.
Should you have more specific questions, please do not hesitate to contact the resident. He'll be happy to help you completing the programm, according to the wishes and possibilities of your class or school.
Monday
Morning: welcome at de Winner!
Arrival at de Winner
Practical agreements, and installing yourselves in the rooms
Afternoon (1):
Game: I'm in the green and I love...
De Winner is a through and through green youth centre. "I'm in the green" is an exciting ecological and educational game, in which several green-teams try to minimize their ecological footprint. Or, during the game, getting conscious about the impact one has on the environment.
Participants: max. 30
Duration of the activity: 2 hours
Afternoon (2):
nice to meet...
We explore the immediate environment of De Winner during this short introduction tour
Participants: unlimited
Duration of the activity: 2 hours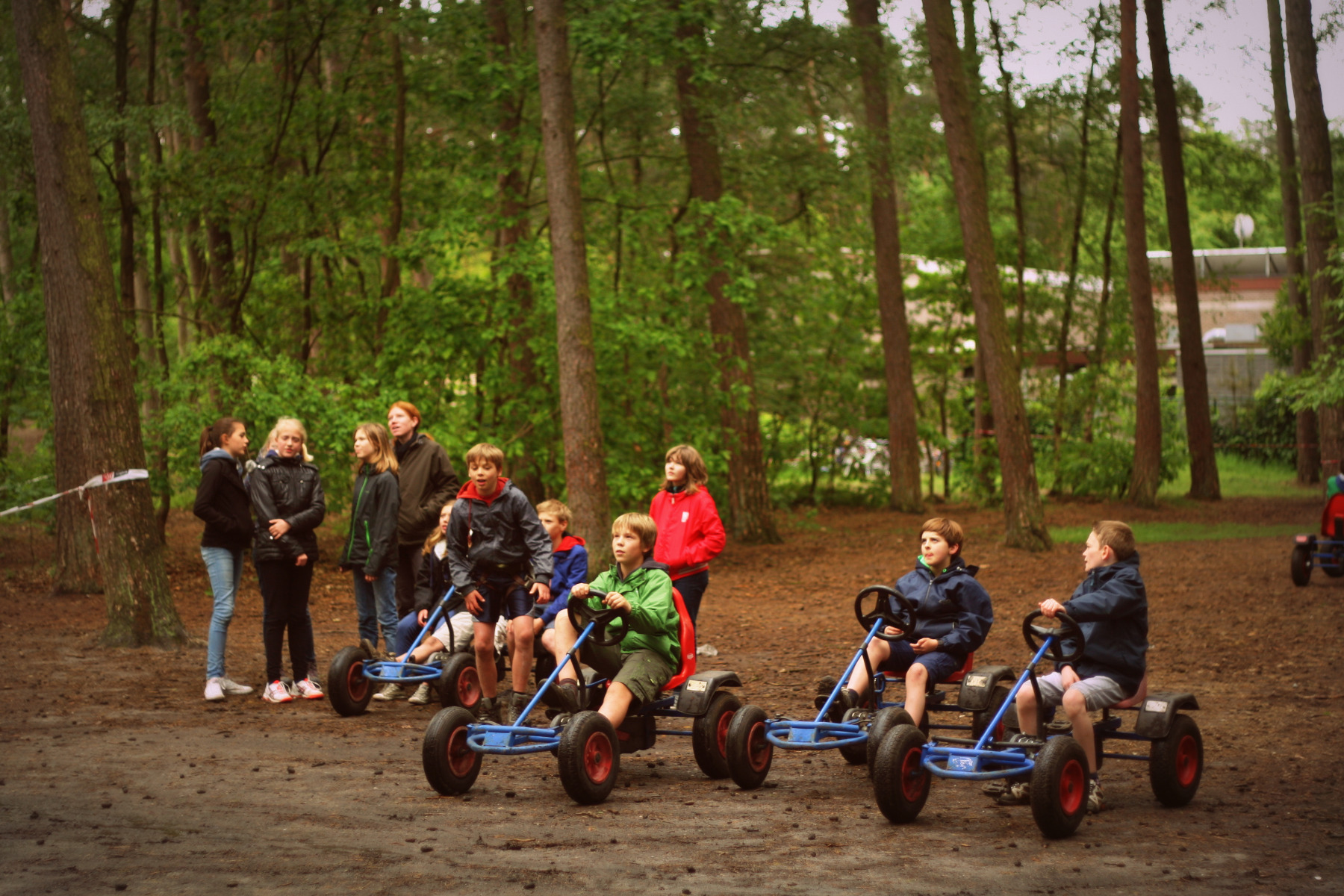 Tuesday
Morning: discover nature!
Nature exploration, accompanied by a professional nature guide.  We get into the forest, and try to find answers to a few pressing questions. Why is water that important to us? Which animals live in the soil beneath our feet? Did you ever hear the juice of a tree streaming inside?
Participants: max. 20 per guide.
Duration of the activity: 3 hours
Afternoon: experience the strangest sounds at Klankenbos
We make a bike trip to Dommelhof in Neerpelt. Here, we tour around at Klankenbos, 

a unique museum with sound installations in open air. You may organise your own concert with your class, or surprise yourselves with the weirdest noises

. We bike for 9 km via the beautiful and safe biking network.
Participants: without guide unlimited -  max. 20 per guide
Duration: 2 hours
Afterwards, you may want to horse around at the fun playground of Scoutsrally near Dommelhof
Wednesday
Today get's really exciting and active : obstacle course at op De Winner!
An obstacle course is being set up on the premises of the youth centre, you do the activities in little groups, passing through to every ons if them. The course is being accompanied by outdoor sports organisation DOE. There is a climbing wall, speleobox, pendule, pamperpole, go-cart race, climbing net, mbx – cross, monkey bridge, bouncy castle, everyone gets the chance of pushing boundaries...
Duration: entire day
Participants: unlimited
Thursday
Morning: Mill museum
We visit the Mill museum to find out how exactly a wind mill operates, what the job of the mill-man was, and what was the mill stone for? A trip of 6km all along easy and safe roads: on foot or by bike? The choice is yours!
Participants: unlimited
Duration: 2 hours
Afternoon: take a refreshing divee in the warm water this afternoon.
Swimingpool Dommelslag is a modern subtropical swimmingpool with rapids, wave pool, slides,... We go by bike, or combinme a short walk (30 minutes) with a busride of de Lijn
Participants: unlimited
Duration: 3 - 4 hours
Evening: Planet tour, followed by campfire
During this evening walk (45 min.), we get acquainted with the planets of our solar system: via a torch-lit path with information signs, we walk through the forest towards the campfire circle. When it's not too clouded, we migh even see the planet Venus! Or the Milky Way, the Pole star, or the Great Bear?! We complete the evening activity with a big campfire.
Participants: unlimited
Duration: 2 hours
Friday
Morning: forest game!
First we pack our belongings and vacate our rooms.
After that, we still have time for an active forest game: depending on the age range of the group, you may chose for the mushroomgame, nature game, or battle of the peoples.
Duration: 2 hours
Guidance : own guidance, or wy nature guides
Afternoon: and that was it, for the fantastic forest classes...
We are heading back home... See you next time?!
More information about forest classes?
winner@hopper.be
or
011/64 01 86
Also check the other activities we offer, enough options to complete your stay with a well-balanced programm: playing, learning, interacting, and above all, discovering! We love to help you making the perfect puzzle for your group. A customized programm for anyone's budget.